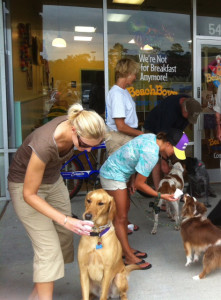 This is a class offered twice a year for those that want to work their dogs in different environments. Last year we visited restaurants, shopping centers, Beaches and other various locations with our dogs.
It was a great learning experience for all, focusing on the importance of maintaining obedience no matter where you are with your dog. This spring we will venture to places like Jockeys Ridge, Crabbie's Restaurant in Coinjock, and of course my favorite pizza place in Duck.
We will also include in this class a visit to the beach. This is a good proofing class for those of you that are interested or have done the Canine Good Citizen. Remember, if you are thinking of doing therapy dog work you need to work with your dogs in all different locations and environments.
This class assists in gaining control in crowds, in traffic, loud noises and multiple distractions.
This is a seven week class that will start: Call for info, Cost: $175.00 We are limiting this class to 8 students.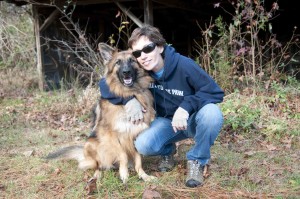 We are requiring payment in full for this class in order to reserve a space. This is non-refundable. If you are currently enrolled in an existing package it will not be applied to this class. If you are interested in doing both the CGC and the Beach Bound
Hound class a 10% discount will be offered. Payment in full will be required to reserve your space. This class has filled every time it's been offered, so call now and reserve your space.